The world is full of wonders many of them are natural but some are artificial, wonders include streets, landmarks, mountains, buildings, beaches, great pyramids, etc. Cities are well defined by their in fracture and streets, in the world incredible streets attract tourism and visitors are the sources of economy. There are many famous and amazing streets in the world and they provide entertainment, attractive nightlife, impressive art of streets, grand restaurants on such streets, and landmarks attract the visitors worldwide.
Streets provide links to the main roads and also provide back whiling traffic stuck on the Grand trunk roads. There are many incredible streets in the world which provide tourism from different parts of the world and these streets are loved by the visitors and the businesses or brands located on these streets are very famous globally. This updated blog comprises the most famous streets in the world.
Lombard Street, San Franciso
Lombard Street is located in San Franciso. It is the Crookedest street that's why Lombard street is very famous worldwide and provides a lot of tourism every year and a great source of economy. One portion of this street is created to minimize the hill's natural steep slope and contains 8 hairpin turns with a speed limit of about 8 km/h.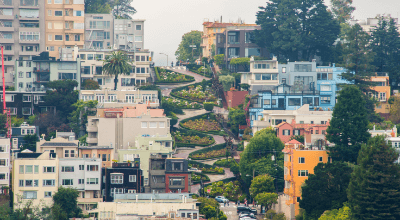 Royal Mile, Scotland
Royal Mile most iconic landmark in Edinburgh, Scotland. Royal Mile is a collection of connecting streets, altogether run for about a mile in length. The streets make Royal Mile includes  Castlehill, Lawnmarket, High Street, Canongate, and Abbey Strand and this route passes through the famous castle of Edinburgh, and the residence of the British Queen. The most famous iconic place on Royal Mile is the Heart of Midlothian, a heart-shaped mosaic in the street which marks the location of the old 15th-century tollbooth, Tourists all around the world visit this place and spit on the heart for good luck.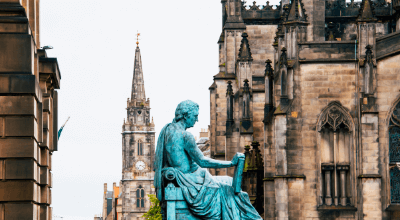 LA's Hollywood Boulevard, United States of America
Hollywood Boulevard contains the footsteps of the world's most well-known celebrities and visitors who wanted to walk on these famous footsteps, you will find here Bollywood, Malls, and many complexes for entertainment, LA's Hollywood is also popular for fifteen-block stretch contain walk of frames. World's most well-known theaters like Dolby, TCL Chinese, etc, along with Madame Tussauds Photos. On every Christmas, this Street becomes Santa Claus Lane and is fully decorated with attractive decorations. It also contains the world's most well-known Casinos and resorts.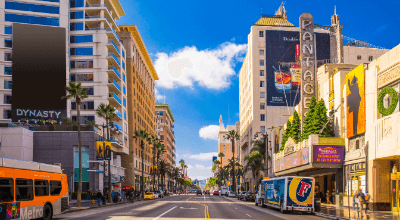 Champs-Elysees, France
Champs-Elysees is the world's most recognized street in Paris, France because of its historical background it attracts visitors from all over the world. It is home to the Arc de Triomphe monument and this two km long street contains horse-chestnut trees, cafeterias, theatres halls, and the world's most famous brand shops. French military parade and bike races also occurred on Champ Elysees.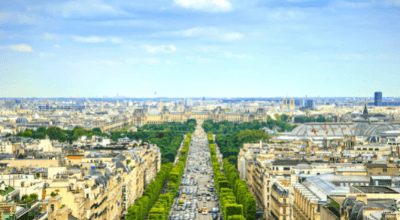 La Rambla, Spain
La Rambla street is located in Barcelona, Spain, and is the most famous street in this country. It is the tourist's first destination while visiting Barcelona,  a kilometer-long street, and everything from flowers to souvenirs is available on this street. During the peak season of tourism, it is crowded fully from dawn to late night. The most famous Umbrella house or Caso Bruno Quadros is located here, Barcelona's oldest hotel is also present on La Rambla Street.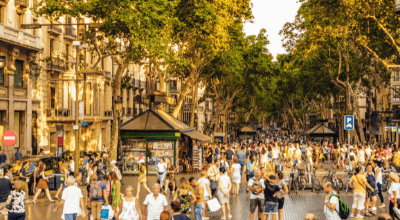 Broadway, United States of America
Broadway is the most attractive and well-known street in New York City, USA. It is running about twenty-one kilometers through New York City. It is the home to New York City's well-known Theatre District as well as Times Square, where the annual New Year's Eve Ball Drop takes place. Broadway street is enlightened by electric bulbs, which shine about 24/7, and millions of tourists visit this place. It is also the home of world-famous brands or Fifth Avenue of Time square contains brands like  Louis Vuitton, Chanel, and Tiffany & Co, etc.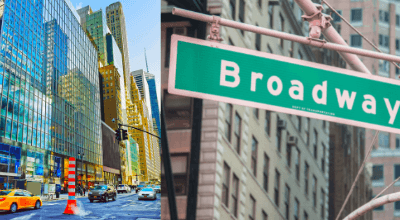 Baldwin Street, New Zealand
Baldwin is the most well-known steepest street in the world according to Guinness World Records. Baldwin Street has a steeper gradient of 34.8 percent. It is located in  Dunedin, New Zealand. Its length is about 1150 ft. For Vehicles it is Baldwin is a dead end. This Street is the place of annual events in Dunedin, and thousands of participants take part in the race. It is also a place of Tourism in New Zealand.